< SEE ALL POSTS
TBP19 — Reflections on Two Extraordinary Days
October 6, 2019 | By Neil Ducoff | 4 Comments
Planning began 18 months ago with the decision to hold our sixth Team-Based Pay Conference in Atlanta. And for over a year, we devoted thousands of human hours into making TBP19 something extraordinary.
Well, TBP19 wrapped up seven days ago. We're all back in our homes and offices. There are phone calls to answer, emails to answer and a four-day Incubator Seminar in our Business Academy to prepare for.
But there is this post-TBP19 mix of emotions that still surrounds each and every one of us.
First, we are all exhausted. We went to Atlanta to give it our all and we did just that. Pulling off TBP19 is both exhilarating and stressful.
Where's our stuff! An advance team arrived in Atlanta on Friday, and immediately discovered that the two pallets with EVERYTHING we needed for the conference did not arrive. Even worse, the trucking company's website showed a new delivery date of Monday. Holy crap, the conference ends Monday.
Calling a trucking company at 3:30pm on a Friday is like slowly crushing your thumb in a thumbscrew. We were finally told our pallets were sitting in truck in North Carolina. More frantic phones calls until we finally earned a morsel of hope.
What stuff was on those pallets? About a dozen banners, signage, notebooks, 375 TBP19 swag bags, classroom handouts, conference programs, print materials, books and so much more.
We were told the truck would arrive Saturday morning at the trucking depot, an hour outside of Atlanta. We could pick up our pallets shortly after. That's assuming the truck made it to Atlanta and got unloaded.
Early Saturday morning, our team members, Daryl Jenkins and Michael Yost, rented a U-Haul van and drove to the trucking depot. We couldn't relax until we all saw the photo of our two pallets.
Within 15 minutes they were on their way back with all our stuff and conference setup could finally begin.
The rest of the Strategies team, 25 in all, arrived in Atlanta Saturday afternoon. It's very much like a family reunion, as this is the one time of year we are all together in one place.
Sunday morning: We were all in the conference area at 7:00am, all of us with butterflies. Attendees began arriving that included many long-time Strategies coaching clients.
I walked into the general session ballroom to behold how that large room had been transformed into our very own TBP19 experience. This year we added more polished staging and lighting. It looked absolutely awesome.
At 9:00am, TBP19 began with a record 375 in attendance. Eric Ducoff took the stage for his opening welcome and setup for the day. Eric was followed by Bruce Hourigan, Strategies president, who delivered his opening statement on interactive leadership.
And then it was my turn to deliver the opening keynote. It's hard to describe the emotions of taking that beautiful stage in front of a packed house of TBP fans and a good number of soon-to-be TBP fans. The only two words that fit that moment are pride and gratitude for all the planning, teamwork and passion to arrive at that moment.
Be a "disruptor" not "disrupted." My keynote message was for all TBP salons and spas to become positive industry disruptors and not be disrupted by negative and dysfunctional industry influences. Why? Because the Team-Based Pay business model embodies Best Business Practices, empowered team cultures and performance consistency that rivals outdated commission models and those working independently.
The rest of Sunday had advanced breakout sessions for the "On TBP" attendees, while the "Not on TBP" attendees were introduced to the thinking and systems that make TBP work.
The TBP Award Ceremony: Sunday evening is a time to recognize and honor eight outstanding companies that embody what TBP is all about. It is an evening of heartfelt and emotional stories by owners that now lead the company of their dreams. From overcoming massive debt to becoming debt-free. From toxic cultures to true team cultures. There were tears of joy and cheers of excitement followed by music and dancing to celebrate. See the 2019 Team-Based Pay Awards winners here.
WOW! 30 Classes in two days: This year, we nearly doubled the number of breakout sessions offering attendees more options to fit their immediate needs. Every session was compressed into actionable systems and ideas that can be implemented upon return. Initial feedback shows we achieved our goal.
It's time to be TBP Proud!!: Too often, because TBP isn't the prevailing pay method, TBP owners are referred to as, "Oh, you're one of them." During hiring interviews, TBP is often approached as something owners need to "sell" new hires on.
My closing keynote was a call to all TBP salons and spas to be "TBP Proud!!" TBP owners and employees did the work, shifted their cultures, transformed their critical numbers and so much more. Be TBP Proud!! Never apologize for being different. Celebrate being a TBP company. Be an industry disruptor because that's what TBP salons and spa are. They are disruptors that chose a better road paved with best business practices.
Our Team Dinner: One of the best parts of every TBP conference is our Monday evening team dinner. We gave it our all. Everyone played a key role and contributed to the success of our conference. We're exhausted and exhilarated. It's time to share good food and fine wine — and share our own memories of the past two days.
I love my team and what we do to make the lives of owners and employees better.
We are Strategies.
We are TBP Proud!!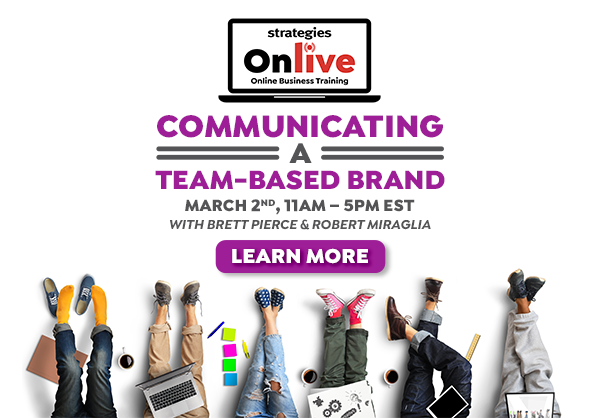 Categories: Leadership