< SEE ALL POSTS
"My" Numbers VS. "Our" Numbers
August 19, 2019 | By Neil Ducoff | No Comments
As a salon/spa owner, what's more important to you, the revenue one service provider brings in, or, the total revenue your company brings in?
The obvious answer is, the total revenue your company brings in.
So why is the industry so obsessed with individual revenues?
Why is it that an individual's total revenue is the first number discussed in performance reviews?
Why is it that individual revenue numbers get posted for all to see and total salon/spa revenues are rarely posted?
And why is it that so many owners don't want their employees to know their company's total sales?
Yes, I get that all those individual "my numbers" add up to total revenues.
I also get that the more an individual brings in, typically determines that individual's value to the company. So much so, that the more an individual brings in, the less important other critical performance numbers and behaviors become.
So, what's the BIG challenge spotlighting what each individual brings in, over shining that spotlight on your company's total revenues? 
The answer comes in two parts:
Culture: It doesn't matter if your company pays commission, Team-Based Pay, hourly or piecework, when the primary focus is on individual revenue, teamwork will take a back seat. Always has. Always will. It's a classic case of, "What gets rewarded, gets repeated."
Productivity rate: If your company's productivity rate (hours available for sale vs. hours sold) consistently falls below 75%, showcasing and pushing individual revenues isn't working for you. It doesn't matter to the top producers how busy or slow their fellow teammates are. What the company brings in doesn't matter to them either.
Here is my No-Compromise Leadership hit list to make "Our Numbers" the focus of your team so everyone can win:
Total company revenue supports payroll and benefits, buys products, funds education, pays the bills and creates profit: If you're the only one in your company paying attention to total revenue, and your service providers are only concerned with their individual revenue, your company's sense of urgency is seriously out of sync. It's great that your top producers are producing, but what about the other service providers that struggle or could care less about working within time standards? What about service providers that don't prebook and think recommending retail is being "too pushy"? What about client retention and showing up on time? If you can't get the energy of the team and the culture of your salon/spa dialed in to achieve the company's monthly service and retail goals, total revenue will fall short.
Growing a company versus independents: I've said it a zillion times, "You can't grow a salon/spa one appointment book column at a time." An employee-based salon/spa must be team-based, not individual-based. Yes, individual numbers are important, but your company's total revenue is massively more important. Clients are going to have their favorite service providers. Great talent should always rise to the top. But great talent must have a vested interest in the success of the company they work for. This is one of the main cornerstones of the Team-Based Business Model. It's not about top producers squeezing more clients in or charging higher prices, it's about working for a company that pays its employees well for doing great work and driving company growth. Think about it. You can pay fewer people better if you maintain ideal productivity rates of 85%.
Daily Huddles and Company Scoreboards: Daily huddles and company scoreboards are non-negotiable. It doesn't matter how you pay. The more information flow that all employees receive on the monthly and daily goals of the company, the more teamwork and sense of urgency there is to achieve company goals. Think about this: Where's the sense of urgency in your company if you're the only one that knows your monthly service and retail goal? What if 30%, 40% or more of your employees are shooting for individual numbers that are below what your company needs to pay the bills and create profit? Got it?
Sharing total revenue goals: If you're one of those owners that think sharing their company's monthly service and retail goals is a dumb idea, think again. If you're afraid that sharing your company's monthly goal and actual revenue numbers will somehow turn your team against you, because they'll think you're making boatloads of money, you need to rethink your thinking. By not sharing revenue goals and actual sales, employees will overthink and blow things out of proportion anyway. More importantly, by not sharing revenue goals and actual sales, it's telling employees that you don't trust them. Helping employees understand the goals, how you determined those goals and each day's percentage to goal takes time. Helping them understand the importance of achieving the goal brings goals to life and drives your team's sense of urgency. Simply put, it's a smarter way to grow a company.
Here's my challenge to you: If you've been focused on individual numbers, it's going to take time to shift your thinking and the thinking of your employees.
As always, begin with your leadership team by explaining the why, what and how of sharing company service and retail goals.
Start with a kickoff of daily huddles. If employee start times are all over the place, be prepared to do multiple mini huddles throughout the day. The objective is: No one starts the day without a huddle to update them on progress towards goal along with specifics they need to know for that day. Eventually, you'll see the logic of grouping start times.
Along with huddles, introduce some simple monthly scoreboards for service and retail sales. Each day at huddle, update the scoreboard.
Gradually, you can add in month-to-date productivity and prebook rates.
KEY: Don't make the huddles "all about the numbers." Be sure to celebrate wins, examples of great customer service and birthdays too.
Shifting from a "my numbers" culture to an "our numbers" culture is going to require your full leadership engagement. It's time to be that No-Compromise Leader your company needs.
Next steps: Want to learn Strategies' Team-Based Business Model from top to bottom? Register now for the Strategies Incubator, a four-day intensive workshop that gives you everything you need to build sustainable growth and an amazing team-based culture.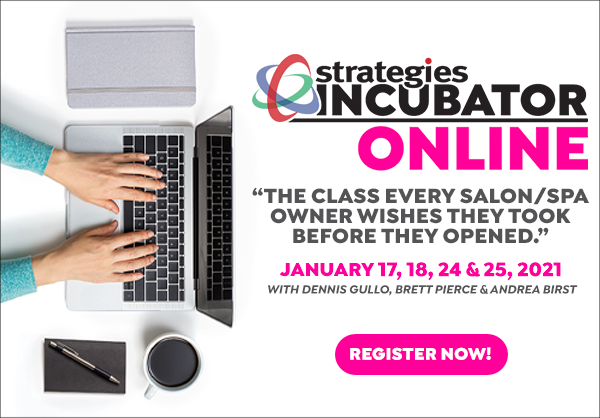 Categories: Financial Literacy