< SEE ALL POSTS
Salon/Spa Checklist for Pausing Operations Due to Coronavirus
March 20, 2020 | By Eric Ducoff | 8 Comments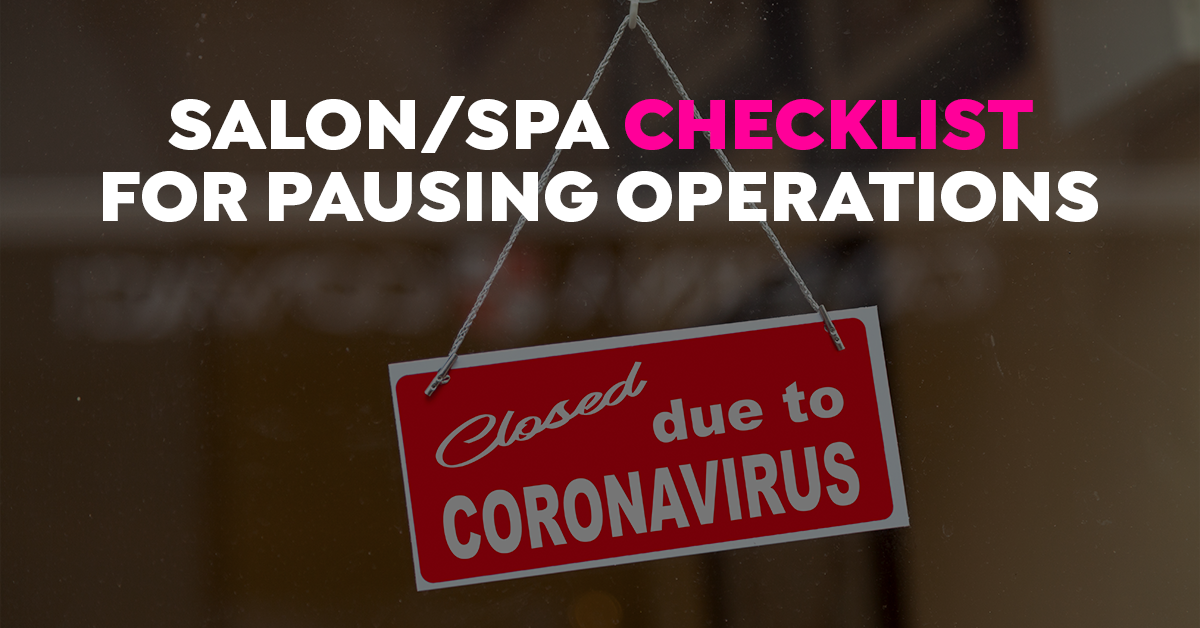 Okay, the decision has been made to pause operations in your salon, spa or medspa due to the coronavirus.
Deep breaths…you WILL get through this.
The most important thing for you to do now is to be proactive. And that starts right now.
Here is a list of action items for you to start implementing right now in order to ensure your team and clients are informed, your physical location is secured, and your business is set up to operate at its full potential when it's time to welcome guests back in the door.
Communicate your intentions with your team: Be as transparent as possible, and let them know how frequently they should expect communication from you throughout the pause in business. Plan out daily/weekly updates to keep them informed, engaged and educated. Give them reassurance that you are there for them if they need a person to talk to
Create scripts for clients: They need to know when the pause will begin, when it will end (if known) and how where they can find updates (Instagram, Website, Email, etc.).
Change voicemail to reflect the verbiage developed in your scripts.
Create an email auto-responder to reflect the verbiage developed in your scripts.
Post an update on your website to reflect the verbiage developed in your scripts.
Call all guests to inform them of the pause. If you have a targeted opening date, be proactive and reschedule all appointments so that you can start generating revenue right away. Just be sure to remind clients the situation remains fluid, and you will notify them if further rescheduling will be required.
Put a sign on the front door outlining all details of the pause, as well as how clients can contact you if needed.
Post pause details on all social media outlets, giving specific details/instructions for clients that currently have appointments booked.
Email guests with pause details on all social media outlets, giving specific details/instructions for clients that currently have appointments booked.
Turn off your automated email and text confirmations.
Unplug all non-essential electronics.
Check the fridge for anything that may go rotten.
Lower heat (or raise AC).
Finish and fold all laundry.
Remove valuables, set alarm, and alert police department of closing date. (Note: Do NOT cancel your alarm service).
Supply your team with information on how they can fill for unemployment (if applicable). Check with your state labor department for details and possible economic assistance.
Guide your team on personal budgeting
Contact your landlord to request a rent reduction. Be sure to outline a fair reimburse plan.
Ask vendors for delay in payment on anything you owe on, including leases, loans, credit cards, utilities, software companies, banks/lenders, etc.
Cancel any subscriptions that you will not need while closed.
Contact your bank for a line of credit.
Visit the SBA Disaster Relief site and determine if you qualify for a low interest disaster loan. If you do, apply immediately!
Contact your business insurance agent to determine if you are covered for any losses. Business interruption insurance does not cover a pandemic, but put a claim in anyway, as there is legislation in place to potentially change that.
Contact your health insurance for your employees to understand their options if premiums are no longer being paid.
Start diving deep into your cash-flow plan and adjust accordingly. It is IMPERATIVE that you keep your cash-flow plan updated and accurate during these next few months.
Have a mindset that you WILL be re-opening, but start game-planning NOW. Your opening strategy needs to be at front-of-mind.
Use this downtime to get ahead by accomplishing all those projects and tasks that you haven't had the time to complete. Work on your internal training program. Paint the walls. Map out your social media content for your re-opening. Don't squander this opportunity to get ahead and come back out swinging!
Create a plan for the next year, being realistic with productivity. It may need some ramping up when you re-open.
Keep a journal notebook (or doc on your computer) and notate EVERYTHING. Also, add your daily thoughts in your notebook, including your gratitudes. Let's stay positive!
Practice self care – You can't take care of others if you don't first take care of yourself
Be creative with ways to generate revenue while the business is closed. Some examples include curbside retail pickup, deliveries, online consultations, etc.
Game plan with your team on how to keep them engaged…whether it's helping creating social content, virtual staff technical training, taking an online course, etc.
Remember, being proactive is the best thing you can do for you, your team and your business. Yes this is a big list, but you don't have to do it alone. Get your team involved. The more they are involved in the planning now, the more engaged and "ready to roll" they will be when your doors open again.
And finally, don't forget that Strategies is here for you. We've spent the last 26 years helping owners like you create amazing companies. That devotion is stronger now than ever. If you need help, just ask. We're in this together.
We'd like to extend a huge thank you to Michell Bartlein, owner of Savoye Salon Spa in Suamico, WI for sharing this list for us to expand on. 
Have a good action item to add to this list? Please leave it in the comments!
Want this checklist on Google docs? Click here.
Categories: Coronavirus , Leadership