< SEE ALL POSTS
A Salon/Spa Owner's Checklist for 30-45 Days After Reopening
June 29, 2020 | By Neil Ducoff | No Comments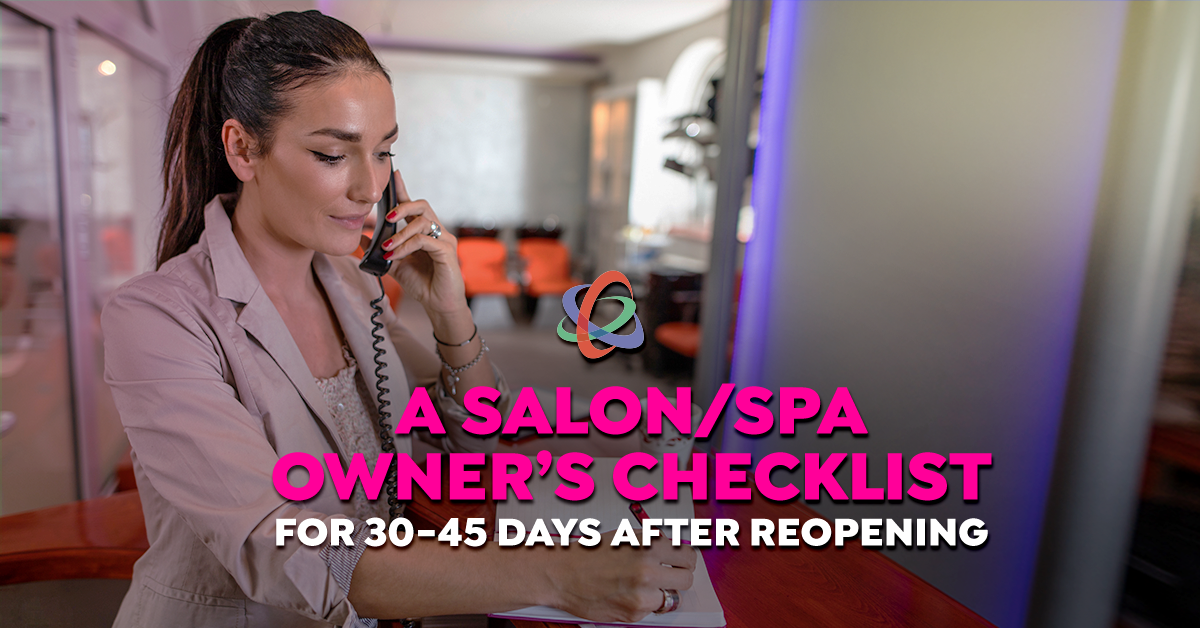 Depending on the state, some salons and spas have been open since the end of April. Salons and spas in eastern PA and NY are just reopening … or about to. Salons and spas in certain counties in CA are still waiting to reopen.
For most of you, it's been a mad dash to get your salon/spa reopened. You had to figure out all the safety protocols, acquire PPE, get your employees off unemployment, sanitize everything, reschedule client appointments … phew.
No matter where your salon/spa is in the reopening timeline, checking all the boxes in all those reopening checklists is a daunting task. It's easy to miss a few. It's easy for a new system or protocol to become inconsistent, ignored or forgotten.
More importantly, there are to-do's that should have been on your checklist that you didn't know about, or feel were important, or just didn't want to deal with.
At Strategies, our mission is to help owners lead and grow salons and spas that are capable of delivering service excellence in the most efficient, productive and consistently profitable manner possible. To do so requires the right leadership approach, systems and team-based culture.
If COVID-19 taught us anything, it's that leadership, systems, cash flow and accountability are inseparable.
We prepared the following checklist for the 30 – 45 days after reopening as both a reminder and a wake-up call of what it takes to succeed in the post COVID-19 era.
The checklist is built around the Four Business Outcomes we coach and teach at Strategies because it provides an organized approach to business disciplines.
Business Outcome #1 Checklist: Productivity
The productivity business outcome is all about doing the work of the business — and executing that work in the most efficient and timely manner possible to the highest no-compromise standards.
Productivity rate is critical: Post COVID-19 capacity restrictions require that productivity rates be maintained at +/-85%. (Service hours sold ÷ service hours available.)
Split shifting: Capacity restrictions make it even harder to cover operating costs. Split shifting allows for expanded hours to accommodate clients and generate revenue.
Service time standards: If a stylist, esthetician, massage therapist, etc., cannot complete a service within specified time standards, that service is no longer profitable. Skill certification is a must. Related: Check out our Internal Training Program to learn how to build a profitable and team-based training program for technical, guest services and management skill
Safety and sanitizing protocols: There is no margin for error. Safety and sanitizing before and after for every client — every time.
Prebook every client: Nothing increases productivity rates better than prebooking. No client checks out without one or more prebooked appointments. Prebooking is a system that requires scripting and consistency.
Frequency of visit: Prebooking is key to driving productivity. What supercharges productivity rates is improving client frequency of visit. Make sure your prebooking systems and procedures are built around the proper maintenance cycle. Increasing your frequency of visit by one extra client visit per year has a profound positive impact on revenue.
Mobile checkout: With cloud-based software and tablets, there's no reason for clients to check out at a front desk. Prebooking is easier, there is more accurate service pricing and more efficient retailing.
Major retailing opportunity: Chair-side checkout must include a professional retail recommendation, sale, and contactless payment. Purchased products are bagged, tagged and waiting for clients when departing. Offer to ship with an added handling and shipping charge.
No more cash: Mobile apps and tablets, combined with Apple Pay and other contactless pay methods, eliminates the need for handling cash that may transmit the COVID-19 virus.
No more cash tips: Apps like Tippy make cashless tipping easy and eliminates the cost of credit card processing fees.
Business Outcome #2 Checklist: Profitability
The profitability business outcome is all about achieving predictable cash flow and bottom line profitability — and doing so with the highest level of no-compromise financial accountability at all levels of the company.
Gotta have a monthly Cash-Flow Plan: Strategies has been beating this drum for almost 27 years. And it's still the hardest discipline to get owners to lock into. Cash-flow plans are mandatory for all Strategies coaching clients. Without one, you're flying financially blind. If you don't have one, we'll build one for you. No more excuses. Related: Check out our Profit Projector package to have us build your 12-month cash-flow plan for you.
Cash reserves: If COVID-19 taught owners anything, it's the importance of a having a business cash reserve. We used to coach and teach that three to four months of operating expenses is sufficient. Since COVID-19, we now coach our clients to have no less than four months of total expenses — including payroll — in cash reserve. Why? Because if another shutdown occurs, there may not be any PPP or EIDL loans to help you.
Scoreboards and daily huddles: You can't play the business game if your team doesn't know the score…and scoreboards and daily huddles are the perfect tools to get everyone on the same page. If your employees don't care about your company goal — you're not leading a team and you're not a team-based salon or spa.
Control payroll costs: For salons and spas, service payroll (hands that do the work) should be between 30% and 35% of total revenue (that means "service + retail = total revenue). Front desk/guest services should be 10% or less of total revenue. Owner's/officer's pay should be 10% or less of total revenue (this can vary if the owner is also a service provider). FACT 1: It is damn near impossible to control a commission payroll without major employee upheaval. FACT 2: Team-Based Pay is pay based on overall performance and managed by your cash-flow plan and financial reports. If your commission payroll was a problem before COVID-19, it will be a bigger problem after reopening. It's time to understand Team-Based Pay. Download the free Team-Based Pay Fact Sheet here.
Tips earned at work are taxable: It's the company's responsibility to properly and thoroughly report employee tip income and withhold/pay the appropriate taxes.
"Under-the-table" pay: It's against the law. End of discussion.
Separate personal from business: Don't run personal expenses through your company. IRS knows where to look and how to find personal expenses. End of another discussion.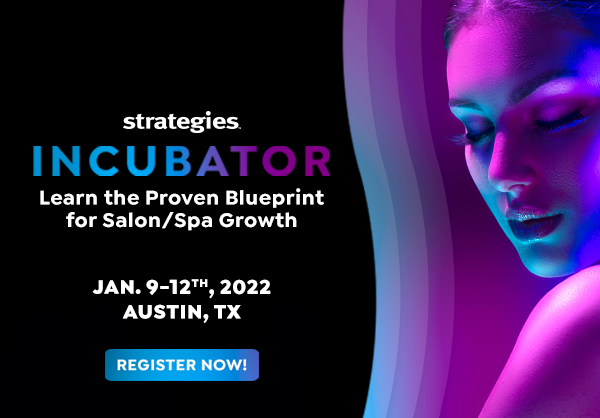 Business Outcome #3 Checklist: Employee Retention
The staff retention business outcome is all about creating a dynamic and empowering culture to attract and retain the best employees — and doing so with no-compromise leadership, open communication, integrity and respect.
COVID-19 Infection Playbook: It is highly likely that one or more of your employees will get infected. The time to figure out what to do is before an employee gets infected — not after. Employers need to follow guidelines set by state and local authorities. Yes, you will need to contact clients that came in contact with the infected employee. Yes, you need to inform all employees that an employee has been infected. Your first responsibility is the safety of your employees. Facebook is NOT a valid resource on what to do. Here's the link to the Center for Disease Control (CDC) Interim Guidance for Businesses and Employers Responding to Coronavirus Disease 2019.
Safety and sanitizing compliance: It is your responsibility to provide a safe working environment for employees. This means proper training for every employee. This means holding yourself and your employees accountable to safety and sanitizing compliance. This means proper use of PPE and social distancing.
Employee stress management: The post COVID-19 work environment can be stressful for employees. As leader, it is critical that you take time to observe the possible stress levels of employees and engage when necessary. Related: Last week's blog post provided a six-step process to manage employee stress. Click here to read the full post.
No "pause" for performance reviews: With all the craziness that's going on, it's easy to allow important business processes to fall off schedule. Performance reviews are more important than ever in the post COVID-19 era. Get them on the schedule and get them done. My only recommendation is to focus more on teamwork, culture, technical and customer service skills and less on the stuff that adds stress. Once we all figure out what the "new normal" is, performance reviews can be adjusted accordingly.
Respect for special needs: It is likely that employees will need to adjust work schedules to care for children and loved ones. Some employees may not be comfortable working full schedules or split shifts. Do your best to accommodate and find solutions that meet individual and business needs.
Information flow is a driver: Information flow brings clarity and understanding to otherwise stressful and chaotic situations. Until this crisis is truly behind us, regard daily huddles and "daily briefings", just like state governors do, to keep people informed on latest developments.
Culture reflects leadership: Salons and spas are labor intensive businesses that demand high levels of leadership engagement. Every business that you admire for its excellence has a highly engaged leader leading it. There never was a "set it and forget it" approach to growing a successful and profitable company with a culture that attracts and retains the best.
Business Outcome #4 Checklist: Customer Loyalty
The customer loyalty business outcome is all about delivering extraordinary service, quality, and value, to achieve maximum client retention — and doing so with a no-compromise passion to be nothing less than world class. 
Congratulate yourself: It is rare that our industry unites to demonstrate a collective show of professionalism as it has embraced the required safety and sanitizing protocols. More importantly, salons, spas, barbershops and others did an extraordinary job of creating a safe environment for customers. The videos that many of you created to show clients what to expect and ease their concerns made me proud to be part of our industry. FACT: Customer loyalty is about making them feel safe.
Systems rock: Another lesson that COVID-19 taught salon/spa owners is that consistency is systems and leadership dependent. The protocols are systems. Systems require training and execution. Leadership makes systems work. Don't stop now. Keep designing and implementing better customer service systems. The better you do, the more customer loyalty you earn.
Measuring customer loyalty: The single most revealing measurement of customer loyalty is first-time client retention. The higher your first-time client retention, the better your systems are working and the higher your customer loyalty will be. KEY: First-time client retention should be the number that determines pay increases.
Team service — not "me" service: Do you want to build a company that can take care of your employees and grows in value? Or, do you want to build client loyalty to individual service providers? FACT: Walk-outs are so devastating to salons and spas because the "company" never earned the loyalty of the clients it attracted. FACT: Commission drives the "I/me/mine" mentality. It's time for a change in thinking.
Here's my challenge to you: Check off every item on this checklist and grow the salon/spa you have always dreamed of.
Categories: Coronavirus , Information Flow , Productivity , Profitability , Staff Retention