< SEE ALL POSTS
19 Points to Keep Your Salon/Spa Moving Amid the COVID-19 Crisis
March 19, 2020 | By Eric Ducoff | 7 Comments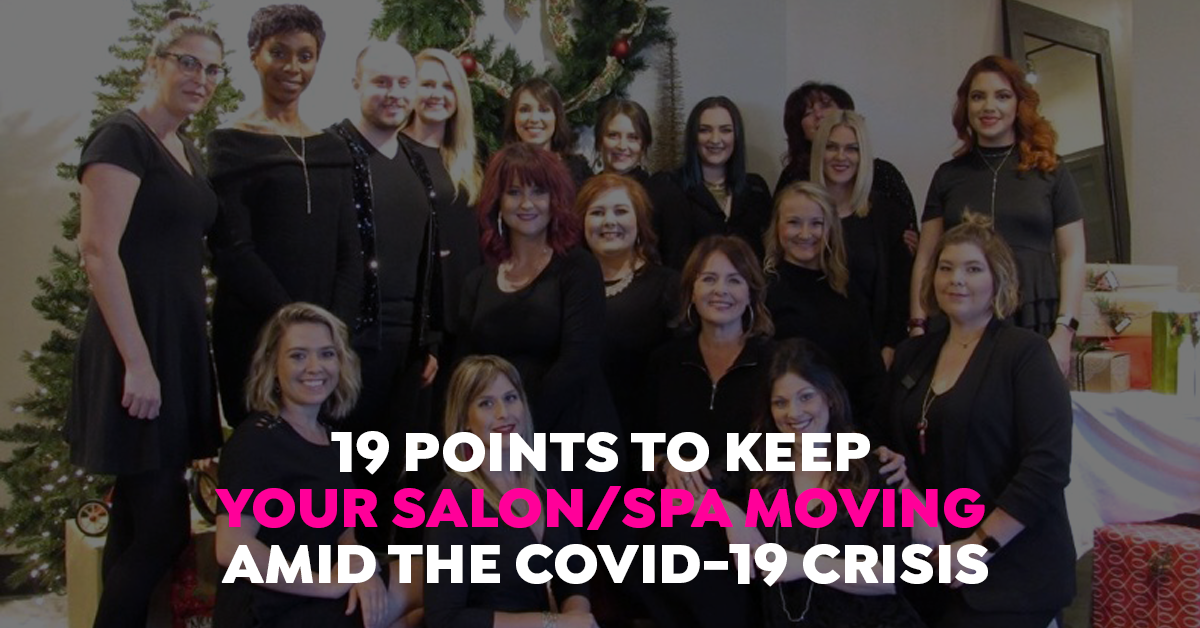 This post was originally posted to our Facebook group, the Strategies Business Idea Exchange, by former Certified Strategies Coach, Lisa Cochran, who owns The Studio – Aveda Hair Salon & Spa in Hattiesburg, MS.
I am reaching out to encourage you as we all navigate through a new business landscape.
In 2005, our area was devastated by hurricane Katrina. The devastation was horrendous, and we knew we were looking at years of recovery. We lost the roof to our new salon, our cars were crushed by trees, our home had trees on it and the list went on and on.
But we survived, and our business did too.
We are stronger for it.
I understand comparing a hurricane and a public health emergency are two very different things. But the response can be similar.
Right now, you might be experiencing a lot of fear, and rightly so. But now it is time to act.
In response to COVID 19, here are nineteen random thoughts, questions and tips to keep my fellow salon/spa owners moving:
Where is this fear coming from? Identify it and give it a name. Mine was shame and anger. I was wondering how on earth will we pay our team and survive as a company. I had all these rushing thoughts of, am I a responsible leader, why didn't I have savings, if we cannot open back soon then how will I be able to pay off this mountain of debt, how would we reopen…. the list went on and on.
Decide in the pain how you will be a better leader after this event. There will be another event. Trust me. We are here. I chose to write out who I would be become and how I would NEVER let my company be in this place again. It took guts, systems and new tools.
Speak truth to yourself. Your company, like mine, might have already been in a mess before this event. Own it now. Get pissed off. Act.
Reflect on your expenses now. What "elephant in the living room" expense have you been ignoring? Payroll, purchasing, rent…. The list can go on and on. This is a time of awakening and not a time to ignore.
Find an accountability partner and act. Strategies was that partner for me and still is. We are a very healthy company, have emergency savings and can ride out several months of interruptions now. I am secure, my company is secure, my team is secure because of the changes we made.
Get your insurance policy out now and call your agent NOW. You might have business interruption coverage that can help you through the process, but you must be able to document EVERYTHING!
Be present and visible with your team and guest. Update them on your openings, closures and new hours. We are in the relationship business; people want to connect with us.
Take control of spending. Every dollar needs a name now and always. Verify every purchase to control cash.
School is on extended break in most areas. Find a solution to help support your team so they can work when the time comes. We did childcare shifts and it bonded us on a deeper level. We really got to live out one of our core values, family, as we cared for each other's children.
Call your bankers and credit card companies now and ask for interest-free or reduced-interest delayed payments. Ask your landlord for rent reduction. DO NOT WAIT UNTIL YOU ARE IN DEEP WEEDS. DO IT NOW. Call your vendors and ask for 45 terms. Most will work with you.
Serve people in your area. Check on your older neighbors. Run errands for the elderly. Do not be a hoarder. Share your resources with those in need.
Do not neglect community. Yes, you might have to be selective as to who you have it with, but you need it and so do they.
You have time on your hands. Live! Enjoy this season. It is after all a season and not the rest of your life.
Limit the hysteria you are allowing to come in your mind.
Read. Read. Read. I am sure you have a book that you have wanting to read. Do it now. Your mind will thank you.
Our business grew by leaps and bounds after our tragedy and yours can too!! Now more than ever people are looking for trusted brands and business partners and to align themselves with people they can identify with. Use this as an opportunity to build a brand people love to do business with and not a bunch of columns for service providers not in alignment with who you are.
Get outside and take a walk. Fresh air and exercise can do so much for our soul and mind.
Do your cash-flow plan, and clean up your financials in your downtime. Now more than ever, it is CRITICAL to have crystal-clear understanding of your cash flow.
Finally, meditate, pray and dream. You more than likely are going to have a little extra time on your hands. Make a list of things to meditate or pray over for clarity.
I hope you are encouraged, and know that this too shall pass.
I love you all!!
With Purpose,
Lisa Cochran
Categories: Coronavirus , Leadership