< SEE ALL POSTS
Retail Recommendations Drive Retail Success
August 25, 2019 | By Neil Ducoff | 1 Comment
The retailing of professional products through salons and spas is a no brainer. Always has been.
Retailing in salons and spas has also been a source of major frustration for owners and employees.
As an owner, you want employees to sell retail, while at the same time, many employees avoid selling retail as if "selling" is something evil. The infamous service provider excuse is, "I'm an artist, not a salesperson."
Many years ago, Strategies started teaching and coaching a system we fondly call "Happiness."
"Happiness" is simply a procedure that service providers are required to use at the end of a service — before the client leaves their chair, station or treatment room.
"Happiness" has the following five steps for a service provider to complete:
Provide every client with a recap of the services/work completed.
Verbally recommended professional products for the client to use between visits — and write the product names on the client traveler, ticket or designated piece of paper.
Verbally explain the recommended maintenance cycle with an "on or about" date for the next visit — and write that "on or about" date down below the recommended products.
Tell the client that guest services will assist the purchase of the recommended products and schedule (prebook) the client's next appointment. (To drive prebook and client retention rates, guest services can schedule the next two or three appointments.)
To complete the service provider's "Happiness" requirements, the written recommendations for products and future appointments must be handed to guest services by the service provider, or designated employee.
"Happiness" has the following two requirements for guest services to complete at client checkout:
Close the retail sale by saying, "[Service provider's name] recommended these professional products to maintain your [hair/skin/nails/etc.] at home. Would you like to purchase all or some today?"
Close the prebook by saying, "[Service provider's name] recommended that your next visit should be on or about [date]. What day and time would best fit your schedule?"
The key to the "Happiness" system is the verbal and written recommendations for every client and ensuring those recommendations for products and prebooking go to guest services to complete the closing procedure.
KEY #1: This is the professional way to complete every client salon/spa visit. Modify the language to fit your salon/spa, but do not skip any step in the procedure.
KEY #2: The "Happiness" system is about getting professional recommendations to guest services to close the retail sale and prebook.
For service providers, the "Happiness" system is all about ensuring that every client receives a professional recommendation for products and the proper maintenance cycle.
It's not about pleading with, pushing or begging service providers to "sell."
FACT #1: Salon/spa retailing success is a numbers game. The higher the number of professional recommendations going to checkout for the close, the higher your retail sales. It drives prebook rates the same way. It's a system.
FACT #2: The "Happiness" system will not work without leadership accountability to educate, and ongoing coaching for service providers to recommend and write it down. The same goes for guest services staff to close retail sales and prebook.
FACT #3: It's not about the retail commission. The absolute worst question an owner can ask is, "What's a good retail commission to get service providers to sell retail?"
Retail commission simply gives service providers a choice to sell retail or not. History has proven that most choose not to sell. Retail commission motivates the very few, not the many.
PROOF: Salons and spas using Strategies' Team-Based Business Model generate higher than average retail sales percent of total revenue without retail commission. Retail recommendations via the "Happiness" system is a performance expectation.
Why the "Happiness" system is leadership dependent
Salons and spas are labor-intensive service businesses. Your employees' hands may deliver your services, but it's their collective thinking and behavior that create the right outcomes and customer experiences.
In a service business, systems create consistency and predictability. For example, if you want clients greeted or your phones answered a specific way, you create a system.
The implementation of systems requires clearly defined expectations followed by training and coaching. Next comes monitoring to inspect, correct and lock in the system. If you don't inspect and correct, old thinking and behavior will return, and the system will fail.
CAUTION: Like any system that is thought and behavior driven, implementing the "Happiness" system and getting it to stick is going to require a leadership commitment from you. It's going to take time to embed the system into your culture and everyday thinking and behavior.
Be prepared to hear a service provider say, "I hate 'Happiness.'" (It is kind of funny when you hear it, and a big clue why we named it the "Happiness" system.) All it means is that the service provider isn't comfortable with some, or all, of the five steps detailed above. Coach, train and role-play until the five steps become natural.
Tracking Happiness: There is a simple way to track "Happiness." Tracking is a way to measure consistency and bring accountability into the process. Here's how many Strategies coaching clients do it successfully:
Create a service or product in your computer system called "Happiness" that requires zero time and is priced at $0.00.
When a service provider (or designated employee) brings a client to checkout, he or she hands guest services staff the written product and prebook recommendation. When guest services confirms that both the product and prebook recommendation were written down, "Happiness" is added to the client's ticket.
Now you can run a sales report by company and individual to see the "Happiness" sold total.
If clients ask what the "Happiness" is on their ticket, the answer is, "We don't charge for Happiness." It always brings a smile.
This tracking system isn't foolproof. Guest services can add "Happiness" to any ticket whether the written product or prebook recommendation was done or not. Likewise, guest services can add "Happiness" to a client ticket without attempting to close the product or prebook sale. Again, leadership accountability and oversight are essential to ensure the system functions properly.
One last note of caution: If your sales reports consistently show 80% to 100% "Happiness" being done, but retail sales and prebook rates are low, one or more of the system steps are being compromised. Remember, "Happiness" is about consistency and generating higher retail sales and prebook rates. Having an impressive "Happiness" score doesn't grow your company.
Here's my challenge to you: If you want to significantly increase your company's retail sales and prebook rates, invest the time and effort to thoroughly implement the "Happiness" system.
I hope I made it clear that implementing "Happiness" isn't going to be a walk in the park. You must be committed to lead it and support it until "Happiness" is locked in and natural.
Remember, it's fine to modify the steps to fit your company's brand, but do not skip a step.
If you would like Strategies to coach your salon/spa through the process of implementing "Happiness," click this link to schedule a free coaching call.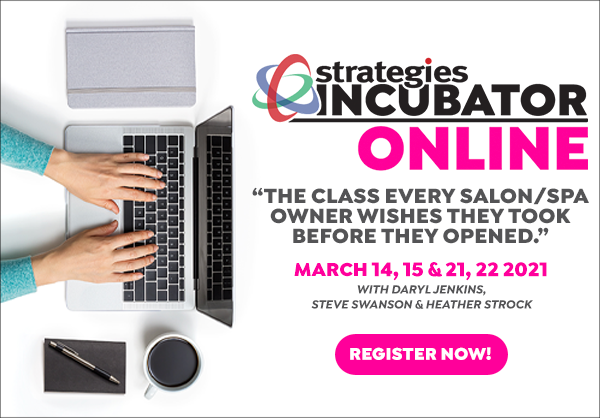 Categories: Profitability