< SEE ALL POSTS
How to Survive This Pandemic — NO MISSED OPPORTUNITIES
August 3, 2020 | By Neil Ducoff | 5 Comments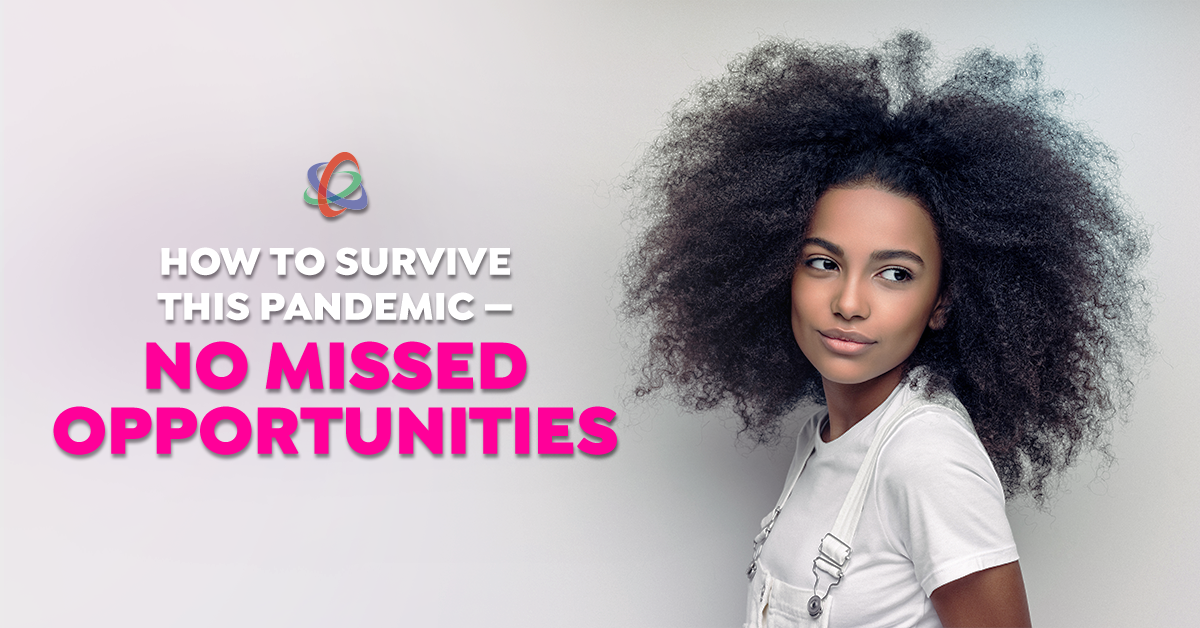 COVID-19 is still surging, which means more unknowns for salon/spa owners to deal with.
To say these are stressful times is an understatement.
To emphasize the sense of urgency to keep your salon/spa as productive as possible, here's the current reality:
Most salons, spas and barbershops have reopened.
For the second time, California recently ordered non-essential businesses (including salons/spas) to shut down. Some California salons haven't been allowed to reopen since last March.
Fingers are crossed that more states don't follow California and order non-essential businesses to shut down.
Depending on the location, salons, spas and barbershops are only allowed to operate at 50% capacity or less. With COVID-19 surging, it is unknown when a return to full capacity will be allowed.
Many businesses are at or near the end of PPP funds. Businesses that received EIDL loans will burn through cash if reduced capacity isn't lifted.

Businesses can still apply for a PPP loan until August 8th.
SBA is still accepting applications for EIDL grants and loans.
Another economic stimulus plan is being argued in Congress. On the table is the ability for businesses severely impacted by COVID-19 to get a second PPP loan. As always, both sides are far apart on reaching agreement.
Many salons are reporting an increase in last minute cancellations and no shows.
The probability of employees being exposed to COVID-19 is increasing. Those that are exposed cannot return to work until they test negative. This makes operating at reduced capacity even more of a challenge.
What this all means to your salon/spa business
Since the start of this pandemic, the primary theme of these weekly blog posts is "be prepared for anything." By anything, we mean keeping your cash-flow plan up-to-date, safety protocols, pricing based on cost-per-hour + profit, policies for Covid contact, and more.
But there's one hole in your business that has to be plugged. It's called "missed opportunities."
Missed opportunities are all those revenue generating opportunities that are allowed to walk out the door.
Here's a hit list of the six primary missed opportunities and what to do about it:
Prebooking future appointments: A client going to checkout without a recommended prebook date is a systems failure. Without a recommended prebook date from the service provider, the responsibility falls on front desk/guest services to encourage a client to prebook his/her next appointment. THE RULE: Every client receives a recommended prebook date before going to checkout.
Prebook recommendations aren't closed at checkout: Front desk/guest services must complete the prebooking process that service providers recommend to clients. THE RULE: Prebooking is a system. Service provider recommends. Front desk/guest services completes the prebook. Every client — every time. It is the client's option not to prebook.
Retail recommendations and sales: You can't sell what you don't recommend. When clients walk out the door without ever receiving a retail recommendation, it is a missed opportunity. THE RULE: Every client receives a professional recommendation. We suggest verbal and written. Front desk/guest services close the retail sale.
Up-selling services: Just like selling retail, you can't sell what you don't recommend. THE RULE: At the chair, in the treatment room, on the phone booking appointments — recommend the service that the client may benefit from or is due to have done.
Not working within time standards: COVID-19 safety protocols may require additional appointment time, but when service providers require more time than what certain services should take — it adds up to a big missed opportunity. When service providers require more than necessary, it's a skill deficiency — or laziness. THE RULE: Salons/spas sell time. Don't squander the hours you have available for sale.
Not charging the correct price: This is perhaps the most significant missed opportunity at salons and spas. It includes everything from giving services away (sometimes to get a bigger tip), preferential client treatment, not charging for additional time/product, and just plain lack of confidence. THE RULE: Every employee must be skill certified on service pricing and how additional time and professional product must be charged for. Start charging the correct price and you'll see revenues increase.
Here's my challenge to you: Absolutely every member of your team must be educated on the cost of missed opportunities.
The COVID-19 pandemic has already cost your business dearly in lost revenue from shutdowns and mandated reduced capacity.
FACT: Every missed revenue opportunity today adds to tomorrow's financial uncertainty.
Categories: Uncategorized